Snapchat Spotlight videos have surged in popularity, especially with the trends of Snapchat Spotlight 2023. These videos have become the go-to for many to share snippets of their daily lives. With the dynamic Snapchat spotlight algorithm dictating what gains visibility, many wonder how to preserve these fleeting moments. If you're scratching your head on how to save a Snapchat Spotlight video in the gallery, this guide's for you.
Why Would You Want To Save Snapchat Spotlight Videos?
The charm of the Snapchat spotlight video is undeniable. The platform, especially in its Snapchat Spotlight 2023 rendition, showcases a curated list of videos, thanks to the Snapchat Spotlight algorithm. These videos, ranging from quirky dance moves to awe-inspiring artistic creations, capture moments of pure joy, nostalgia, or even profound messages. 
The desire to save a Spotlight video isn't just about holding onto a digital file; it's about preserving emotions, memories, and moments that resonate. Whether it's to relive a personal favorite, showcase a trending moment outside the Snapchat universe, or have a tangible memory from the spotlight video Snapchat community, the reasons for wanting to save are as varied as the videos themselves.
Steps To Save A Snapchat Spotlight Video In Gallery
Direct Save Method: Occasionally, Snapchat might offer the option to save Snapchat spotlight video content directly in your gallery. Always opt for this when possible. But this you, Snapchat watermark will show on the top of the video, when you play. If it sounds okay, you can go ahead. But if you don't want a Snapchat watermark in your saved video, you can follow these steps:
Using A Screen Recording Feature
On different devices, screen recording features can be easily accessible from the upper menu where you access WIFI, mobile data, etc. In this way, you can save video in your gallery without a watermark on any device; here's how:
For Android: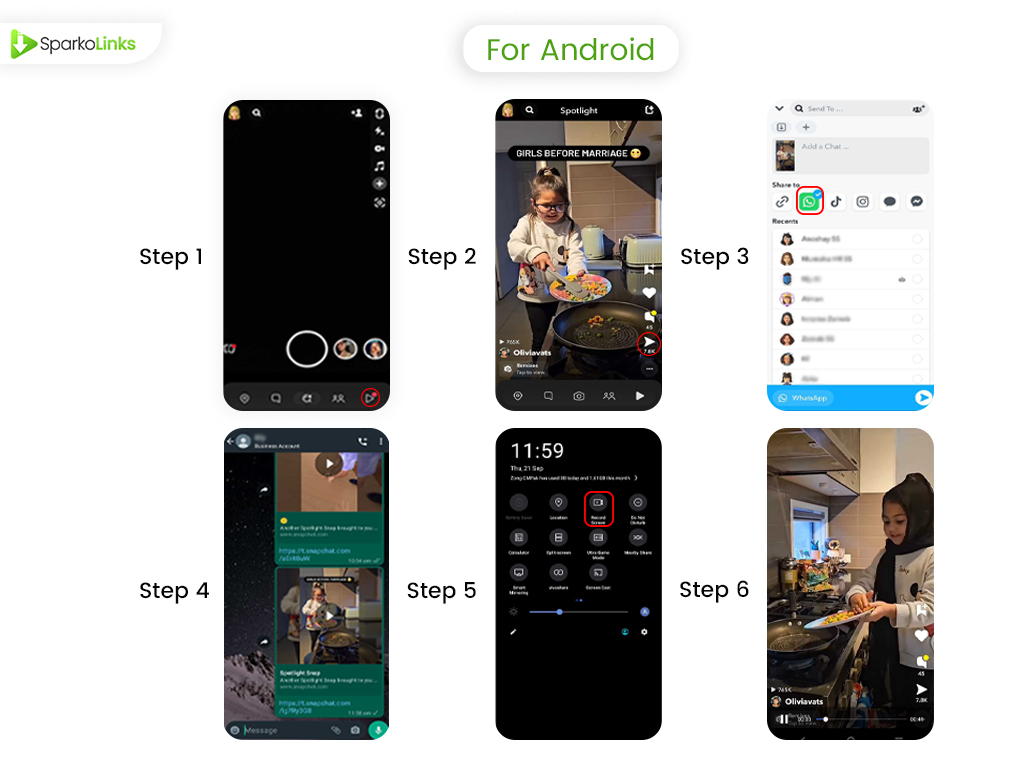 Open the Snapchat app. 

By default, the camera will open. Just tap on the "video play" below the right side of the camera. 

You'll be in a spotlight video section. Swipe up to see multiple videos. Select a spotlight video you want to share. 

Now tap on the share icon from the right side of your screen or video. 

After that, select a WhatsApp option and share the video with your friend. Now open the video, and you'll see there's no watermark in the video. 

Access the control panel and tap one screen recorder. 

Next, start recording a video. Stop the recording quickly when the video stops. 

Lastly, check your gallery, your recorded video will be there with no watermark. 
For iOS: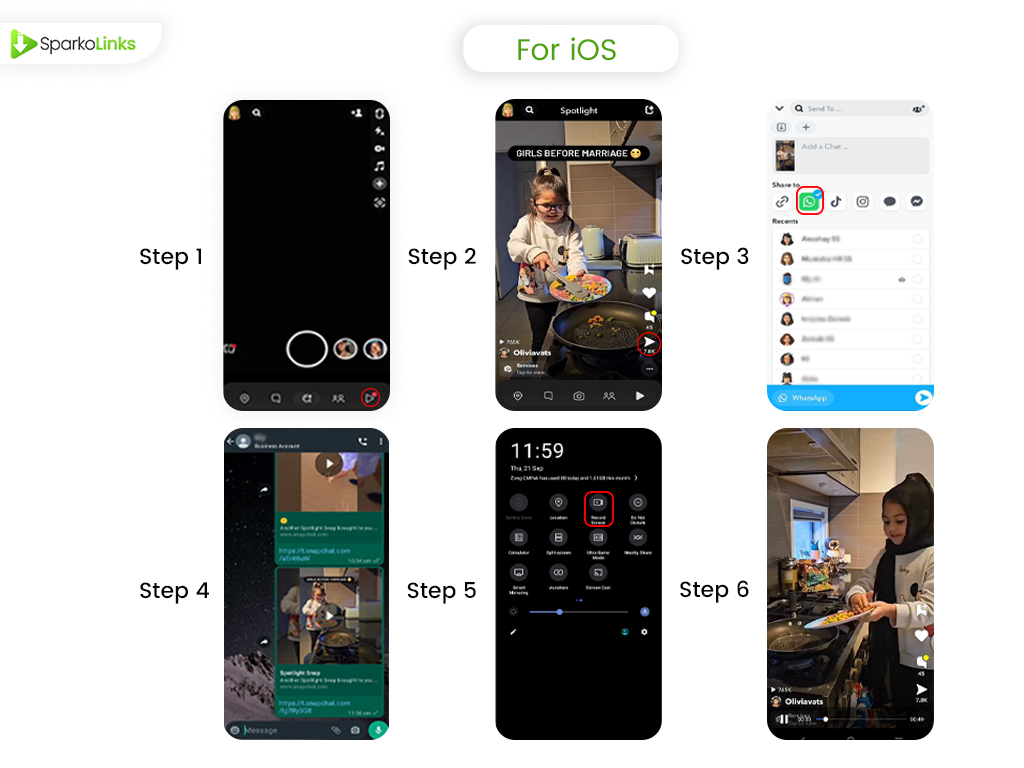 Navigate to the Snapchat app. 

Tap on the "video play" below the right side of the camera. 

To save any video, just tap on the share button. 

Next, tap on the "WhatsApp option", this will save your video from the watermark. 

Share the video with your friend, open it and you'll see there's no watermark option. 

Now access the Control Center on your iPhone device. Tap on the screen recording option. 

The recording will start, and stop when the video is finished. 

Now see your device gallery and the video will be saved there. 
Third-party Applications
Be wary when you wish to save a Snapchat spotlight video without a watermark or want to save a Snapchat spotlight video online. You can save it without a watermark in your gallery with the help of a Snapchat video downloader, it will save both spotlight and story videos. Always check Snapchat's terms to ensure you're not violating them.
Common Mistakes to Avoid
When downloading a video from Snapchat or any social media app, most of the users don't think about privacy concerns and make mistakes while saving the content. Here are some mistakes users made, and should be avoided. 
Copyright Concerns:

Ensure the right to use and share content to prevent infringement.

Quality Loss: When aiming to save

Snapchat spotlight video without a watermark,

ensure the final quality remains intact.
Snapchat's TOS Violations:

Be cautious of methods, especially third-party apps, that may breach Snapchat's guidelines.

Unwanted Watermarks:

Check saved videos for third-party app watermarks and choose methods that avoid them.

Storage Check:

Ensure enough device storage before saving to avoid corrupted files.
Tips To Enhance The Quality Of Saved Videos
Post saving, especially when trying to save Snapchat spotlight video online, there's ample room to spruce up your content. Here are some tips to enhance the quality of saved videos:
File Formats:

Post-saving, convert your Snapchat spotlight video to optimal file formats like MP4 for better compatibility and quality retention.

Editing Tools:

Use trusted video editing apps to trim, enhance brightness/contrast, and tweak video settings for an improved look.

Watermark Removal:

If you've unintentionally saved with a watermark, some apps specialize in removing them without compromising video quality.

Compression Care:

When sharing your spotlight video Snapchat memories, opt for methods that don't compress the video too much, preserving the original quality.

Backup & Cloud:

Regularly back up saved videos to cloud storage solutions, ensuring they remain safe and accessible.
Conclusion
With Snapchat Spotlight 2023 trends rapidly evolving and the Snapchat Spotlight algorithm shaping content delivery, saving those memorable Snapchat Spotlight videos can offer a chance to relive moments. Stay informed, save responsibly, and immerse yourself in the dynamic world of Snapchat memories.