Snapchat has revolutionized the way we connect, share, and express ourselves. But what if your gateway to instant, fun communication, the Snapchat account is permanently locked? This situation can be frustrating, but don't worry! Whether you're encountering obstacles during the Snapchat sign-up process or struggling with Snapchat login, we're here to guide you on how to unlock a permanently locked Snapchat account, ensuring you don't miss out on capturing and sharing those fleeting moments!
Here, we will delve deep into understanding why Snapchat accounts get locked, how long the locks last, the steps to unlock them, and how to recover your account if it's permanently locked. Additionally, we'll explore the preventative measures to ensure continuous, hassle-free access to your Snapchat.
Why Do Snapchat Accounts Get Locked?
Snapchat's popularity is undeniable, but sometimes users find themselves locked out, questioning, "Why did my Snapchat account get locked?" Understanding the reasons can be crucial to prevent future lockouts and maintain a seamless Snapchat experience.
Most commonly, accounts get locked due to violations of Snapchat's guidelines or terms of service. Engaging in activities such as sending spam, using unauthorized third-party apps or plugins, or attempting to hack can lead to your account being temporarily or permanently locked. These violations disrupt the usual Snapchat sign-in process, causing inconvenience to users.
Additionally, excessive login attempts, particularly with incorrect credentials, can also trigger a lock as a security measure, which is why it's essential to remember your Snapchat login details accurately. If you forget your Snapchat password, it's advisable to use the password recovery option rather than making multiple failed attempts.
The Duration of Snapchat Locks
A common question is: How long does a locked account last on Snapchat? Typically, a temporary lock may last a few hours to a couple of days, often causing distress to avid users. However, in cases of severe violations, users may experience their Snapchat locked for 48 hours or, in extreme situations, find their account permanently locked. In such instances, reaching out to Snapchat support promptly and following the advised steps can help in regaining access swiftly.
Steps To Unlock A Permanently Locked Snapchat Account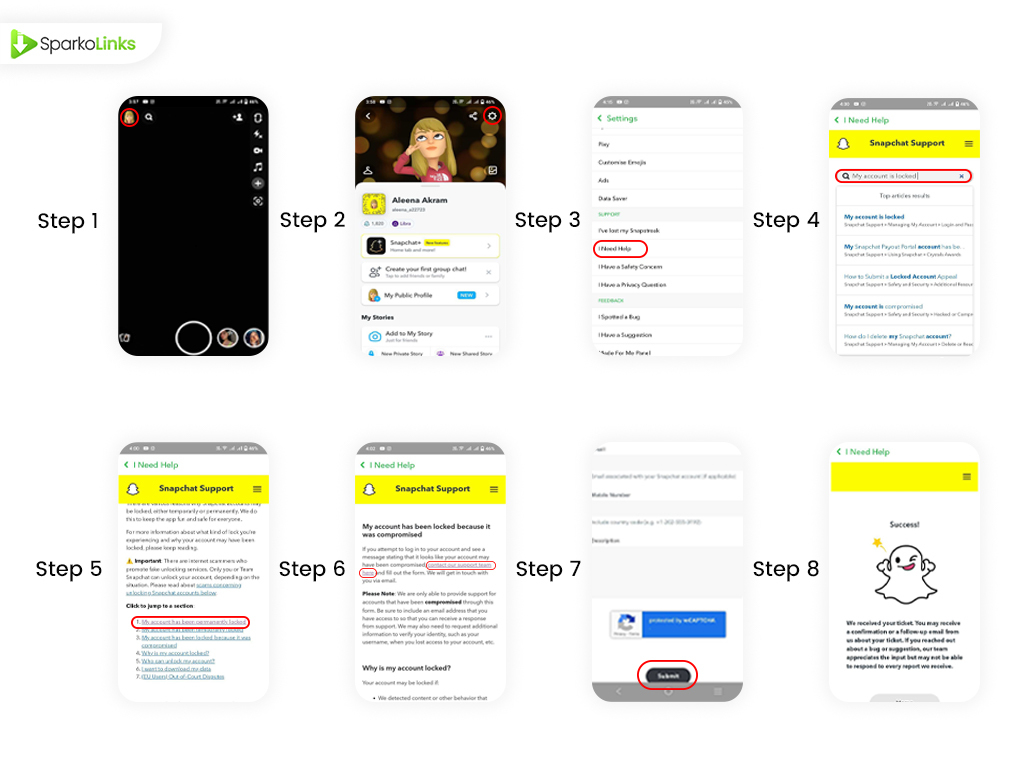 If your Snapchat is permanently locked, don't panic! By contacting Snapchat support and following their guidance, you can regain access. Here are the steps to unlock your Snapchat account:
01 Step: Open the Snapchat app. 
02 Step: Tap on your profile picture on the top-left side of the screen. 
03 Step: Tap on the gear icon (settings) on the top right side of the screen. 
04 Step: Scroll down the page and tap on the "I need help" option under the "support" section. 
05 Step: Next, in the search bar, search "my account is locked" and then tap on the first link. 
06 Step: After that, tap on the first URL"My account has been permanently locked". 
07 Step: You'll be redirected to the locked section and tap on "contact our support team here". 
08 Step: Fill up the form and tap on the "submit button". 
09 Step:  After sending an email to Snapchat support, patiently wait for their response.
10 Step: Lastly, Snapchat will notify you that your request has been submitted. 
Alternative Ways For Account Recovery
When the standard unlocking steps are of no avail, exploring alternative strategies is crucial for regaining access to a permanently locked Snapchat account:
1- Unlock From The Browser
Attempting to unlock from a web browser can sometimes offer solutions when app-based methods fail. This approach might bypass restrictions enabling quicker access, especially when the app is experiencing issues.
2- Changing The Username
Altering your username can potentially reset some account parameters. This modification may clear certain restrictions, allowing you to access your account and continue snapping.
3- Reset Your Phone Number
Updating or resetting the phone number linked to your Snapchat can resolve specific locking issues. A new number can refresh account settings and remove locks associated with the old one.
4- Change Your Password
A straightforward password change can work wonders. It not only secures your account but might also lift the lock, granting you access to your cherished snaps once again.
5- Contact Snapchat Support
Direct communication with Snapchat support can provide personalized solutions. Their guidance can address the unique issues of your account, assisting you in navigating through the recovery process efficiently.
6- Wait For The Lockout To End
Patience can be your ally. Waiting for the temporary lock period to conclude and refraining from login attempts during this time can prevent additional complications.
7- Verify Your Account
A verified account can sometimes resolve locking issues. Verification confirms the authenticity of your account, potentially lifting restrictions and ensuring smoother access.
8- Delete Third-Party Apps
Eradicating unauthorized third-party apps and plugins can alleviate conflicts and violations that lead to account locks, making your Snapchat experience more secure and hassle-free.
9- Update Snapchat
Regular updates ensure that your app aligns with Snapchat's latest standards and features. An updated app can prevent compatibility issues and other glitches that might result in account locks.
10- Wait For Snapchat
Once you've reached out to support, wait patiently for their response. Follow their instructions meticulously to rectify the situation and unlock your Snapchat account.
Final Thoughts
Dealing with a permanently locked Snapchat account can be a stressful and frustrating experience, but knowledge and understanding of the resolution methods can turn the tides in your favor. By adhering to Snapchat's community guidelines, utilizing the authorized and official app features, and maintaining a proactive approach toward account security, you can enjoy a seamless Snapchat experience.